Article Index
Images of a Psychic Artist
By H. Heddie Uyeda, Doctor of Education, University of Southern California
(first printed in HOLISTIC LIFE MAGAZINE, Fall 1980)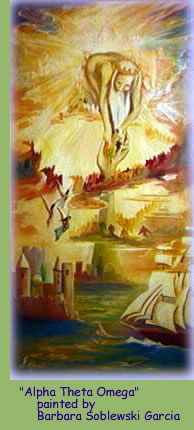 Barbara Soblewski is a fascinating personality with phenomenal psychic abilities and spiritual qualities of great depth and beauty. She grew up in Southern California and has come a long way from the five-year-old child who saw her dreams become reality as certain daily events were revealed to her in dreams. As Barbara grew up, she developed her psychical powers, which have been labeled by various media as astrology, numerology, dreams, ESP, mental telepathy, and visions.
Some four and one-half years ago, Barbara experienced her first and only formal art training in a two-week mini-course sponsored by the Carlsbad parks and Recreation Department. To the absolute amazement of her art teacher, her very first oil painting was completed in thirty minutes. During this two-week period, she was elected first vice-president of the Oceanside-Carlsbad Art Guild. She was refreshing and new to the field of Fine Arts where people of many years experience were all around her. The Director of the Fine Arts Museum in Balboa Park indicated that her paintings were indeed "fine works of art."
Just as studies of mediums by responsible researchers, such as William James and Sir William Crooks have shown evidence of automatic writing (where the medium becomes an instrument of an invisible element), Barbara, with only two weeks of formal art training, has shown evidence of automatic painting and has confounded thousands of people with her many magnificent paintings. Moreover, could we maintain that much of this phenomena comes from the resources and hidden depths of the unconscious? This is similar to Carl Jung's concept of the collective unconscious. Barbara emphasizes that it is difficult to describe in words, but she states: Sometimes I'm told to paint certain things. It's almost as if I'm that particular artist. I have specific artists who guide and work with me. I get into their vibrations. One artist constantly sings in Italian as we work and another artist-engraver speaks very softly in French. He's very gentle and wants to give so much as we work together.
Perhaps this explains why her paintings are distinctly different in style and technique. Barbara further states: I am convinced of the reality of the invisible entities that work through me, how do I convince other human beings!? In other words, each time I illustrate/paint with acrylic/oil on paper/canvas, it's not me-it's an invisible entity.
It was the latter part of 1975 when Barbara visited the Santa Sal Mission that a vision entered her consciousness and departed before she could comprehend what the vision was about. Immediately following this, an inner voice spoke to Barbara and revealed that there would be six major works of art, EACH VERY SIGNIFICANT.
To date there are four, each a monumental fine work of art, painted on canvas by Barbara at the beginning of a new year. Each major painting displays a wealth of color, is exceedingly intricate with extraordinary detail, and is of much beauty and completeness. The paintings (24" x 48") were completed within 48 hours without interruptions and without changes. This indeed required deep spiritual concentration on the part of the artist.
The first (1976) major painting, entitled "Earth Mother" is of a lovely, graceful Lady who holds the world on a flowing piece of cloth. This magnificent painting was on display at the San Diego " I am Woman" Conference, January, 1979.
The (1977) painting, entitled "Ohm 1" (Ohm meaning electrical resistance), depicts the destruction of a nuclear bomb.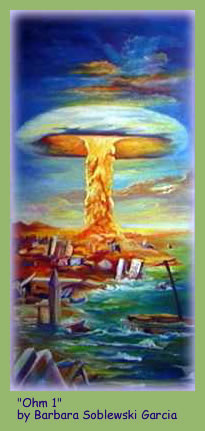 In January 1978, Barbara painted "The Healer", which was completed in one 42-hour sitting, and it depicts a magnificent Christ figure. She states: When I first began painting "The Healer" I colored the entire canvas green and couldn't imagine what I would be painting or what would appear on the canvas.
Her 1979 fourth major painting, entitled "Earth Father", depicts a serene and wise man who holds the world on his lap. The Eagle and the Christ figure are inlaid in his crown, which appropriately sits on his head.
In preparation of each major work, Barbara states: I start preparing at the end of the year. Then an inner voice gives me the title of my next oil painting and that's it! I have no idea whatever of what is going to be painted on the canvas.
The forthcoming 1980 major work of art will be entitled "Alpha Theta Omega." Barbara, of course has no idea what revelations her brushes and oil paints will unfold onto her canvas during the painting of her fifth masterpiece.
Barbara is unique - her inexplicable powers are genuine and what she does is vividly real.
In 1978, with the help of Carl Hefley, each step of the now famous Hillside Strangler case was investigated by Barbara and published in the Hefley Report Psychic Magazine. The Los Angeles California Police Department would not listen, but the psychic search went on. One year later Kenneth Bianchi was arrested in Bellingham, Washington just as Barbara had predicted during her psychic investigation. This was primarily due to the drawing which appeared in the Hefley Report.
Other police departments began to recognize Barbara's psychic abilities and engaged her in similar cases, such as The Yorkshire Ripper of England, The Burdock Mystery of San Diego, and (a close to her home case) The Costa Mesa Murderer. Television stations quickly responded to the public's wishes of hearing more about the incredible abilities of Barbara Soblewski.
Las Vegas opened up for her in 1978 when she appeared on the Dick Murrice Show with the rock group, The Lettermen, leaving the audience spellbound and the Lettermen group in awe. Upon returning to San Diego, she appeared on Sun Up San Diego, which let to her 1979 appearance on a CBS nationwide documentary in psychic phenomenon.
To hundreds of people she gives "psychic paintings and readings," which have very personalized messages for each subject. With multicolor acrylic chalk and art paper, she sits next to her subject and holds his/her hand for a few minutes and concentrates. Without looking at the box of acrylic chalk, her hand quickly moves over them as she feels for the right color and in a semi-trance voice ( she's talking to someone invisible) words are softly spoken by her, such as "pastels," "more blue," and "keep it light." In fifteen to twenty minutes she rapidly completes two or three illustrations for each subject. Inevitably each illustration reveals something special about the particular person. Barbara claims: The readings vary with each individual. Sometimes my mind is a total blank - I go in and out. Sometimes I see a mass of pictures and it's that particular person's life unfolding in front of me. Sometimes I'm feeling nothing but emotion. There are usually two types of people and two types of paintings. One type is spiritual and wants to know about the energy, the total picture. The other type is very materialistic and wants to know about his/her job, cars, family, love life, and money.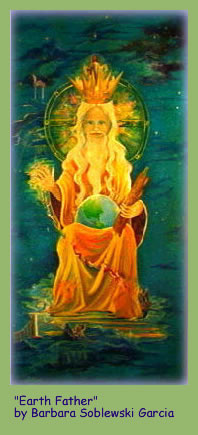 When asked how she interprets these messages, Barbara asserts: Perhaps the closest comparison is the feeling I get when waking in the middle of a dream. It's as if my energy writes information (within seconds it's gone) like a moving picture. The pictures range from images indicating the person's present and future to a material object.
After hundreds and thousands of illustrations or paintings for people (leading executives, statesmen, lawyers, plain folks, teachers, etc.), Barbara still gets very elated: I love my paintings and I love it when someone looks at his/her painting and says what it reminds him/her of It's always different; thus, it gives something to everyone.
A cross section of observers who try to analyze Barbara are extremely diversified. Aside from the curious, the people who come to her door each day are motivated by one essential question: When will peace, quiet, prosperity, and true happiness come their way? Her subjects leave in constant amazement after relating to Barbara's illustrations or paintings. Watching her is something real and valid.
Because Barbara Soblewski is a pragmatist and a realist, she often states about herself and her psychic talents: It's hard to believer but it's true!" Psychics are not the only ones who deal with the unknown. We all do in all areas of life, but with courage and faith in ourselves as well as trust, the unknown is conquered without the trauma of fears".
Barbara Soblewski is gentle, joyful, and deeply in love with what she does.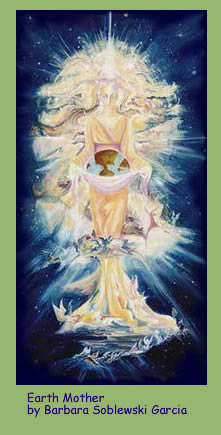 ---
PSYCHIC SAYS 'PINK LADY'S STILL AROUND
By Carol Cling
News Tribune Writer
(first printed in FULLERTON TRIBUNE)
YORBA LINDA- There's nothing pink about her.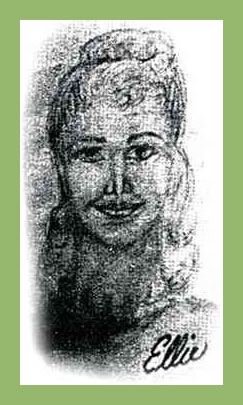 But the legendary "Pink Lady" who reportedly haunts the tiny Yorba Cemetery is alive and well and "living" near the grave of Alejandro N. Castillo. That's the preliminary verdict of professional psychic Barbara Soblewski - who said she has been in communication with the spirit since the night of June 15, when the specter was due to appear.
Ms. Soblewski braved the crowds of beer-drinking ghost-hunters gathered for the Pink Lady watch, her curiosity piqued by the News Tribune account of the Pink Lady legend.
" I was very skeptical," she said. "you should have heard the jokes I was making". But she managed to sense the spirit's presence and "tuned in" to an area toward the rear of the cemetery- the Castillo grave.
" The impressions of a frail, young-looking woman appeared in my mind's eye," Ms. Soblewski recalled. "She had sandy blonde hair, hazel eyes and a cream colored dress."
So much for the dark-haired, dark-eyed woman garbed in pink. And so much for a continued investigation that night, Ms Soblewski decided. Instead, she returned to Yorba Cemetery the following week - accompanied by her husband, Richard Garcia, and Fullerton residents Shirley White and Jim Wright, took infrared photographs of the graveyard during Ms Soblewski's "session" with the elusive spirit.
Through a technique known as psychic art, Ms. Soblewski sketched three drawings that depict the woman, a church, an unidentified structure behind the church, and what appears to be a car in flames and a book, held by the woman in one of the drawings. (Legend has it that the Pink Lady perished in a Kellogg Drive accident while returning from a Valencia High School graduation ball)
Then Ms Soblewski turned to another psychic technique - "automatic writing" - to transfer the spirit's thoughts to paper.
During the drawings and automatic writing, Ms Soblewski said, "I am not aware of what's going on - a spirit, an energy, an intelligence" controls her pencil. The spirit communicated that she was buried beside the Castillo grave in an unmarked plot, Ms. Soblewski said. "My family not here, just one," the spirit communicated. "I look for my family, my home: where are they, not here. I am a free spirit, let me go in peace and peace be with you."
After the automatic writing stopped, Ms Soblewski said, "Ellie's presence overpowered me. It wanted me to walk; I submitted to her wishes and was led to the grave site of Angie C. Bleecker, who died in 1934."
Ms. Soblewski and Mrs. White contacted Angie Bleecker's grandson, who put them in touch with his father - Earlan Bleecker.
Bleecker remembered the little church as a small boy and said he used to play in the adobe ruins behind it. He said the Bleeckers moved to Yorba Linda from Anaheim: some had married into the Garcia, De Los Reyes and Castillo families.
"He recalled an Ellie who he believed had married a Castillo," Ms. Soblewski reported. "But no one knew what had become of her after the couple had broken apart. He described her as attractive woman, slender, fair in complexion, "with light brown hair."
Ms Soblewski also visited Angie Bleecker's sister, Netty Rivera, who said she vaguely remembered and Ellie. In addition, Mrs. Rivera recalled an automobile accident involving two boys - one of whom, a De Los Reyes, survived the crash.
(The spirit had communicated, through automatic writing, that she had a "little brother who had a sister that died," Ms. Soblewski said.) The psychic investigator plans to continue her search regarding Ellie. She said she hopes to peruse Valencia and Fullerton Union high school records when school resumes in the fall: "There's so much to go through it may take another year."
But tracing the spirit has become "an emotional thing with me," Ms Soblewski said. "She's apparently earthbound, kind of like a lost soul" A lost soul Ms Soblewski intends to find.
The work is on file at the city library in Yorba Linda, California. Section title "Pink Lady Investigations", 1982

---
Lots of Tomorrows
by Kevigne Kalisch
(Published in THE HEFLEY REPORT)
.
I'm finding this article very difficult to write because it's about the catastrophic plane crash that shook San Diego so terribly on September 25, 1978 and it's also about a close friend who was on that plane.
On August 23, 1978, I went to see Barbara Soblewski, psychic artist, for a reading. She went into a semi-trance state as my future began to unfold in full color pictures.
One of the symbols she drew could not be analyzed in depth. She said that it was either a piece of crystal or perhaps an airplane. Time would have to clear up its meaning. She told me to keep my eye on that picture •it held the key to something powerful.
I waited. In the meantime, I started rehearsing a song that I am going to record in December. I wrote it for my friend, Earl, and I planned to give him a copy for Christmas.
On September 10,1978, Barbara said to me, "Earl is going to fall down and he will never receive your record." She said that perhaps the meaning of this was that he was on the verge of a mental breakdown. I was deeply disturbed and yet I couldn't imagine any earthly reason why Earl wouldn't receive this gift. Barbara's amazing accuracy in making predictions left me feeling deeply concerned.
It never dawned on me that Earl would be taking his last walk down that PSA ramp that fateful morning and would go to meet his death in the sky.
After the crash and learning that Earl was among the victims, I looked at my picture and it was then clear that indeed this was a drawing of an airplane with the yellow of flames surrounding it, a touch of red symbolizing blood, and a smoking tail.
The other startling aspect is I could also see a small wing, perhaps from the Cessna, crashing into the jet. In addition, there could be seen a faint impression of another small plane flying nearby.
I experience terrible shock and grief over this event. In some ways I wished that Barbara had better prepared me. But how can someone prepare you to lose on of your best friends?
After mourning this terrible loss, I realize that Earl is at peace now. My love for life has increased since his passing over. I value each moment and try to make the most of it, for, as a friend put it so well the other day, "We have lots of tomorrows •but only for a little while

---
Testing OC's Psychics
The Orange County Register
Metro
July 16, 1985
By Jack Robinson
A Move To Test OC's Psychics
Fear of fraud follows fortune telling-ban repeal
.
The recent repeal of bans on fortune telling in Anaheim and other Orange County cities will damage the industry's credibility and expose the public to charlatans, one psychic predicts, unless the government imposes tough licensing standards.
While Barbara Soblewski leads the call for a standardized test of psychic powers, magicians, scientists and other contend there is no such thing as a genuine psychic, much less a concrete way to measure their abilities.
"There are people out there posing as psychics," Soblewski said. "When the public starts complaining about being ripped off, the (genuine) psychic's reputations are damaged."
Like most Orange County cities, Anaheim repealed its fortune telling ban in response to a ruling by the 2nd District Court of appeal in April 1984 that declared such bans violated freedom of speech.
Although the state Supreme Court has yet to have the final word in the case, cities with fortune telling bans have repealed or modified laws inconsistent with the lower court ruling.
Soblewski said she wants Anaheim and other California cities to require anyone who performs paranormal feats for fees to pass a test of psychic ability before receiving a business license.
A new ordinance adopted by Anaheim on May 28 allows a psychic or fortuneteller to practice in commercial zones on payment of an annual business license, posting a bond and submitting to a criminal record check, said Dean Sherer, associate planner.
Orange County cities charge business-license fees of as much as $1,000 per year, and require bonds as high as $10,000, according to a planning department report to the Anaheim City Council. Anaheim requires a psychic to post a $5,000 bond and pay a $300 annual fee.
These hurdles are necessary to protect the public from fraudulent operators, said Robert Franks, Anaheim Assistant City attorney.
But Soblewski said the requirements discriminate against honest psychics and do not weed out the frauds.
"Where are (honest psychics) going to find $5,000?" asked Soblewski. "I know who will- the charlatans."
"Just because a person doesn't have a criminal record doesn't mean they can't be frauds. This profession is wide open."
Soblewski, practices her business of psychic consulting to business and professional people in a modern office. She said she makes every effort to assure her clients she is honest. A member of the Anaheim Chamber of Commerce, Soblewski says she sees more than 400 clients a year.
Rather than require bonds and record checks, Soblewski said, cities should ask psychics applying for business licenses to pass a test of their ability. But Soblewski and skeptics agree that finding such a test is no easy task.
Nonetheless Soblewski devised one. The four-part test is designed to measure telepathy, remote viewing-the ability to see through the eyes and mind of a distant person-and dowsing ability.
The test was given a trial run July 10 in Soblewski's office with Kirby Picado, an amateur psychic from Anaheim. Long Beach magician David Alexander and a reporter observed.
Alexander is a member of Southern California Skeptics, an 850 -member organization of scientists and magicians who advocate cautious handling of all claims of paranormal ability.
Picado, described by Soblewski as a talented amateur, accurately described the appearance of a slide showing a desert scene displayed on the wall of adjoining room. But her descriptions of six other slides were not accurate, Soblewski said.
Results of the other phases of the test similarly were mixed, Soblewski said. Picado failed a test that called for her to find a water filled test-tube with green and blue pebbles.
Picado scored two correct choices on a test that specified 10 common objects and required her guess in which order Soblewski chose them.
"You need to work on your mental telepathy," Soblewski said.
Alexander said Soblewski's test fell short of its objective. It lacked what Alexander said were essential of a scientific test: a constitute success and a set of rules consistently applied through out the test.
Stephan Schwartz,, research director for Los Angeles based Mobius Group that researches psychic claims, said the development of an accurate test of psychic ability would be difficult.
According to Schwartz, psychic abilities are often inconsistent and hard to detect.
But Alexander had more fundamental doubts. "We're talking about licensing something when we don't even know it exists," Alexander said.
In addition, Alexander said, the test could easily be mastered by trickery. Taken by a good magician, "You'd never know what hit you," Alexander told Soblewski.
"Shortcomings oft test only serve to point out its necessity," said Soblewski.
"Its better than what we have now- which is nothing," she said.
Robert K. Tuller, Soblewski's attorney, said he and Soblewski plan to mount a statewide lobbying effort to convince legislators to endorse the test proposal. They hope to interest research institutions and universities in the task of perfecting a test.
Tuller and Soblewski said they have approached only Anaheim officials with their idea so far.
" I think there's a possibility we would look at (the test idea)," said Franks of the City Attorney's Office. "But it probably would be more appropriate for the state to look at it."
Until such a test is available, according to Soblewski and Tuller, the unsuspecting public is in danger.

---
THE NATIONAL EXAMINER
The police departments of America now have allies in their unending war against crime in the form of the psychic detectives.
These gifted men and women are using their mystic abilities to give the police accurate portraits of wanted criminals.
In this issue, the Examiner covers the work of two of these amazing psychic detectives.
.
During the spring of 1978, seer Barbara Soblewski drew a perfect portrait from her impressions of the Hillside Strangler for a psychic newspaper in Los Angeles.
Now, almost a year later, this amazing portrait bears a close resemblance to Kenneth A. Bianchi, who has been indicted for the January 1979 murders of two women in the Bellingham, Wash., and who is now a suspect in the Hillside Strangler Case.
A spokesman for the Los Angeles Police Department assigned to the Hillside Strangler case told the Examiner that Bianchi is being investigated in connection with the Los Angeles murders declined further comment.
In Bellingham, Wash., Detective Sergeant Schenck told the Examiner that two investigators from the Los Angeles Police Department "came up and took a look at what we had and talked to the people up here. They're working on the case down there as far as the Strangler is concerned."
Soblewski, investigated the scene of the Strangler murders accompanied by Carl D. Hefley, the reputable and distinguished editor-in-chief of the Hefley Report in which Soblewski's portrait appeared.
They visited the apartment where Hillside Strangler victim Kimberly Diane Martin, 17, had supposedly been lured a few hours before her violent death at the hands of the Strangler.
"It was on the door of the apartment that I got some information." Soblewski told the Examiner this week. "We spent a whole day there and I believe, the next.

"But I needed something to hold on to. So I got a picture of the girl who had been murdered and put my hand over it and, finally, the picture came out."
Soblewski explained how she is able to draw her amazing psychic portraits.
"It comes in a semi-trance state," she said, "I went to the places where the Strangler was supposed to have been and closed my eyes and went into a trance. Then I would start drawing. I would go to the place and sit there and just draw the things that came into my mind. I would tune into him."
Soblewski told Hefley that the Strangler was a tall man, about 6 feet and a heavy smoker, probably of Winstons. She also said he hated authority yet she saw him wearing a military uniform.
Soblewski and Hefley then visited the scene of the murder of another Strangler victim, Kathleen Kimberly Robinson, 17. This time the psychic picked up some strong vibrations across the street from where the body was found, Hefley said
"Frisko," Soblewski said. "I want to go to Frisco." Hefley asked her if the Strangler had gone to San Francisco and she replied that she felt he was no longer Los Angeles.
Soblewski then placed her hand on a newspaper story showing pictures of ten of the strangler's victims.
She said that she felt the strong presence of Jane King 28, the eldest Strangler victim as she drew the portrait.
The psychic sketch of the Strangler appeared in the May-June edition of the Hefley Report.
And Ken Bianchi, an ex-security guard, was arrested and charged in January of this year for the murders of Karen Mandic, 22 and Diane Wilder, 27, former students at Western Washington University in Belligham, Wash.

---
GUIDED MEDITATIVE IMAGERY CONDITIONING
The following is devoted to enjoyable images used in my ESP workshops and classes. These images are flexible and may be tailored to your individual needs. Use as a reference guide for the induction of prosperity consciousness meditations.
Preparation: Choose a time to where you will have no interruptions or distractions. Get yourself in a comfortable sitting position either in a chair or on the floor. (If sitting is a problem for you, then lie down). Begin to relax your mind and body by focusing your attention on relaxation beginning with your toes…your legs…thighs…stomach muscles, chest, neck and shoulder muscles arms, hands and face muscles. As thoughts surface in your mind, simply acknowledge them and bring your attention back into the moment. Breathe deeply and rythmaticaly until you are totally relaxed and at peace.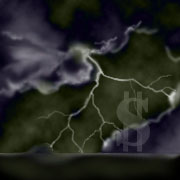 Visualize a dark cloudy sky. Hear the wind beginning to howl. A bolt of lightning streaks across the sky. You hear clashes of thunder in the distance. Yellow streaks of lightening fill the dark sky with light and as it does, sprinkles of money begin to fall upon you. You pick it up. Smell it. Play with it. As you allow yourself to play and receive the money, it begins to pour. The money thunderstorm is flooding your room, pouring out the windows and doors. Your community is becoming drenched, the storm encompasses your city, your country, the storm becomes more and more intense enveloping the entire world. (Hold the images as long as it is comfortable. Be creative, Have Fun)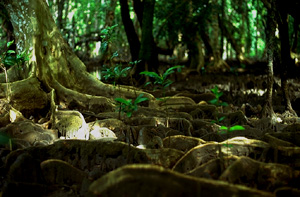 Visualize yourself in your ideal perception of paradise. A lush green forest perhaps. All around you are giant ferns and lilies. Beautiful birds and exotic animals or in a sunlit beach. Perhaps your idea of paradise is a world of cyberspace. Wherever you are, explore it and as you do notice the feeling of peace, contentment and abundance emerge from deep within you filling your vision with joy. Visualize other people in your vision of Shangri-La. Some of them are your friends and relatives, others are those you have not met yet. You even see a foe or two. Notice how everyone in your vision has the same feeling of peace, contentment and abundance as you do. Take time to explore the feeling of abundance with the other people in your vision. (When you come out of this meditation, carry this feeling with you throughout your day)

---
ZEROING IN ON A RAPIST
Published in The Hefley Report
By
Kevigne Kalisch
.
August 2, 1978
I was having my usual 4 o'clock coffee break and browsing absent-mindedly through the local paper when my eyes suddenly fell upon a story about a rape victim in my neighborhood. I became incensed when I read that a person posing as a door-to-door solicitor raped a young woman my age, and got away with it. My rage turned into fear and then compassion for this woman who could have been me. I immediately went to the phone and contacted Barbara Soblewski, a psychic artist, who had done some very significant and accurate work on the notorious Hillside Strangler case in Los Angeles. (See vol. of The Hefley Report). She immediately agreed to accompany me to the Police Department in San Diego to try to assist in apprehending the criminal involved in this rape case.
August 3, 1978
San Diego Police Department…Sex Crime Division
The detective (name withheld) left the room where Barbara and I sat anxiously waiting for the articles of the crime to be brought forward. What seemed like hours were in reality minutes before he returned with the bandages the rapist had used to place over the victim's eyes.
Sitting directly across from Barbara, the detective looked at her in disbelief as she began to reveal her psychic impressions. With chalk in hand, she began drawing various symbols and simultaneously spoke out, saying "bridge…Balboa Park…a silver ring…Mexican…newsstand, drug store…something strong about newsstand…saw her there before." The impressions stopped. Barbara opened her eyes and looked questioningly at the detective as he began to discuss a case he had just solved. "I didn't know if I should have interrupted you while you were working, but what you came up with were some of the facts of another rape case I just solved. It happened in Balboa Park near the Laurel St. Bridge and the rapist was Mexican-American. Before the court hearing, I had to take a group of specialists down to the park to look for the ring. It turned out to be a silver ring and we located it by using a very expensive metal detector."
(The detective never gave us any feedback on the Drugstore details. That was to unfold for us later.)
This was just another of the many examples of Barbara's amazing ability to tune into crimes and produce accurate, accountable facts. The only problem here was that the facts uncovered were not those pertaining to the case at hand.
Barbara explained that she had "picked up" on the detective's thoughts and that this had caused interference. She requested a return visit at which time she would be left alone in the office with the bandages used by the criminal. The Sex Crime Division granted permission and the date was set for August 9, 1978 at 1 P.M
August 9, 1978
12:45 noon. The news of Barbara's working with the police spread rapidly to the news media. By Wednesday morning, the Police Department was inundated with San Diego news reporters. With a seemingly reluctant phone call to Barbara, the Sex Crime Division stated that they were forced to take her off the case due to the exorbitant amount of publicity surrounding it. There was absolutely no chance that they would change their minds.
The psychic impressions Barbara had made at the police station regarding the case was carried by the local news media. And so it followed tat a phone call from a total stranger cam in a few days later. The stranger said that he felt that one on the impressions Barbara had gotten at the police department was probably to do with the Birdrock murder case that had been dragging on for the past year.
The Birdrock case involved the murder of a young girl at the Birdrock Drugstore (the only drugstore in that area). She apparently was buying a newspaper at the newsstand inside the store and then was returning home on foot via the alley in back of the store where someone persuaded her to a field in Poway where he mutilated her body and left her there to die. The Birdrock case has remained unsolved and even the expertise of a well-known out of state detective could not reveal the necessary facts to wrap it up.
Midnight, August 13, 1978
Barbara and I found ourselves in my car with her art materials and a tape recorder winding slowly through the hills of La Jolla, California. An eerie feeling came over us. We were close to something dangerous, so close we could almost reach out and touch it. Suddenly, the drugstore we know we were looking for loomed out in front of us. It almost seemed to be calling out to us to discover its terrible secret. We turned off the engine and let ourselves be consumed with the stillness of the dark, cold night. And then it happened.
Barbara was frantically shuffling through her art materials and was gradually slipping into that semi-trance state that I have seen so often whereby she manages to pull back the curtain of what we know to be reality and slips into that higher realm where spirit guides her into infinite truth.
Her hand moved involuntarily over the blank page and then, in the dark, with her eyes closed, where there originally had been what looked like unrelated scribbling, there distinctly began to emerge…the face of a man. Who was this man that looked at us? Why did he look so alive? Why did his mouth seem to be quivering? Was he a murderer who secretly hoped we would turn him in to the police so he could be relieved of the terrible burden he carried?
A cold chill swept over me as Barbara put into words what she was symbolizing on paper. "Two little girls..one was dark-haired with brown eyes…the other was light-haired with blue eyes…I'm seeing the light-haired child with long pants on, not in a dress…I see an acquaintance…meeting her before hello type thing…drawings…child likes to draw…she was gifted in drawing…he was talking…very friendly..OK, I have his face…bring him on in…three small scratch marks below the lip…flesh wounds that healed within a couple of weeks…nice looking person…warm features…person that looks very friendly…fairly bushy eyebrows. As far as living is concerned…he lives in a nice place…I'm picking up he's married…something wrong with his wife, a physical condition. I pick up children but not his own…some sort of warehouse…builds things…something to do with boats or accessories…lives on a hill..La Jolla(perhaps on the same dark winding road we had driven down earlier that night)…a street with a long name…
In the eyes of the police, the Birdrock case remains locked in an endless stalemate. Has Barbara found the key to open the door to the new awareness needed to unravel this case? Was the Birdrock rapist the same man who went from door-to-door till he found his victim? Can the rapist or rapists be allowed to continue to stalk the night freely, in search of other young victims?
Innocent people are needlessly being subjected to crimes that could be prevented if more people were aware and utilized the amazing power of psychics like Barbara Soblewski. If the world's awareness develops, as it should, there will come a time when we will once again be able to walk anywhere, at any time, in complete safety.

---
A Product of Light
By
Barbara Garcia
You are unique. So are we all. No one else shares your particular background, emotions, experiences or perceptions. The lessons you've learned on your journey are your reality, and only yours. From the inner sanctum of this personal reality, you continually create and manifest events, circumstances, things, and--most importantly--the awareness of the universal life force permeating every living cell on the planet.
Though each of us is unique, we share the common ground of this energy, which connects all of us in the chain of humanity. Our purpose is to grow and achieve our personal best, and in so doing we also become a living example for others seeking growth and perfection. By sharing our gifts, and the wisdom of our experiences, we enhance our own reality. One such gift is the use of this energy to heal ourselves and others, because no one's journey is free of negative and disabling experience.
Negative experience remains alive in our physical body as changes, and perhaps even genetic effects at the cellular level. These are the biological results of accumulated painful encounters, associations, and attachments that affect our potential for growth and our view of ourselves and our community.
Through correct use of our energies and through unconditional self-love, it is possible to redirect harmful negative cell processes and restore a positive biological environment supporting health at the microscopic level. There are products of light now available to aid us in this cleansing process. They are made by Heavy Light, the German company pioneering this new popular technology.

---